The cradle of a certain French way of life, the cognac vineyard covers approximately 79,500 hectares, divided between Charente-Maritime, a large part of Charente, and a few towns in Dordogne and Deux-Sèvres.
Officially delimited in 1909, this production area, crossed by the Charente and composed of plains and hills with gentle reliefs, is divided into 6 crus which refer to the different appellations:
GRANDE CHAMPAGNE : 
GEOLOGY : Home to the most famous Cognacs, particularly well-suited to aging in barrel for a very long period of time.

AROMAS : Dominance Floral, Fleur de vigne, dried linden, dried sarment.
PETITE CHAMPAGNE : 
GEOLOGY : Features the same soil type as in Grande Champagne. However, the influence of oceanic climate is greater here.

AROMAS : Floral (Fleur de vigne) and fruity.
BORDERIES : 
GEOLOGY : The soil is decalcified on the surface. Produces very aromatic Cognacs that age more quickly than those from the Champagnes.

AROMAS : Floral Dominance, violet, Iris.
FINS BOIS : 
GEOLOGY : In the north, the soil consists of « groies », or thin clay-limestone (from the Jurassic period). In the south, the soil dates back to the Cretaceous and Tertiary periods. Cognacs produced here are less well-structured and age faster than those in the Champagnes.

AROMAS : Fruit dominance and floral.
BONS BOIS : 
GEOLOGY : A more heterogeneous appellation with formation dating back to the Jurassic and Cretaceous periods. The climate is oceanic in the west and continental in the east. A wide variety of Cognacs are grown here.

AROMAS : Fruity (pressed grape).
BOIS ORDINAIRES : 
GEOLOGY : This appellation covers the coast and two neighboring islands, resulting in Cognacs strongly influenced by the Atlantic Ocean.

AROMAS : Fruity.
« Henri Coquand (1813-1881), professeur de géologie, étudie au milieu du XIXe siècle les sols et terroirs de la région de production du cognac. Il valide avec un dégustateur un classement des sols selon le type d'eaux-de-vie qu'ils peuvent produire. Leur travail débouchera vers 1860 sur la délimitation de différents crus de l'appellation Cognac. Il servira de base au décret de 1938 délimitant les crus actuels. »
OF THE TOTAL FRENCH VINEYARD AREA
AVERAGE AREA UNDER VINE OF A WINE ESTATE
Ugni blanc is Present in over 98% of vineyards in the Cognac geographical indication, this medium-sized, thin-skinned, round grape variety actually originates from Tuscany, Italy. This widely produced grape variety has high acidity and low sugar levels, resulting in a low-alcohol wine (8 to 9% vol.).
Very high acidity is a key advantage, ensuring good natural aging potential. Ugni Blanc's relatively neutral, well-balanced profile makes it an ideal grape variety for high-quality wine spirits. After distillation, it produces delicate, floral wine spirits with good aging potential while blending with other, more aromatic varieties contributes volume and finesse.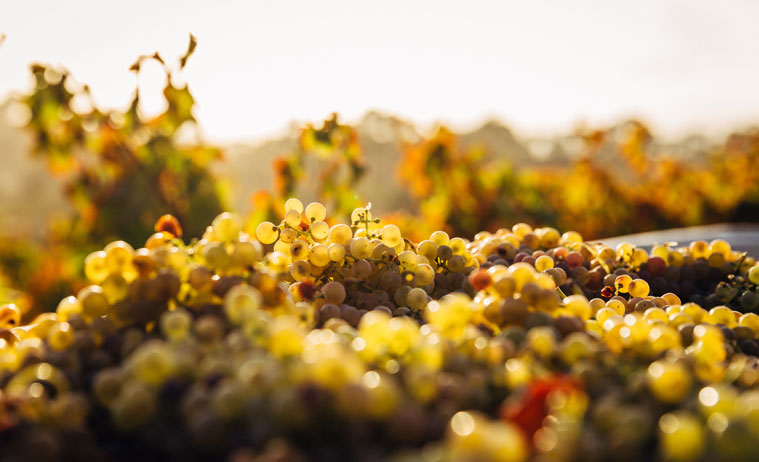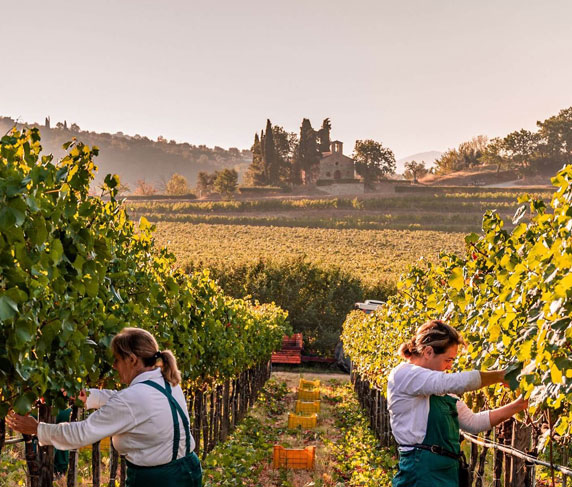 Folle Blanche represents less than 1% of vines planted, this white grape variety produces low-alcohol wines. It nevertheless remains a unique grape variety, producing well-balanced wine spirits with powerful aromas, released by distillation.
Colombard, with similar ripening potential to Ugni Blanc, also features high acidity and low sugar levels. It is usually blended with other grape varieties and appreciated for its powerful aromatic potential, as well as, like Ugni Blanc, its high acidity.
A batch process is used for double distillation. This method consists of two successive steps, called "chauffes": The "first chauffe" is the initial distillation of wine, resulting in the brouillis, or first distillate. The "second chauffe" (also called "repasse" or "bonne chauffe") designates the distillation of the brouillis, and produces Cognac wine spirit once the beginning and the end of distillation (also called "phlegme") are eliminated. Heads or tails from the first or second distillation may be added to the wine or brouillis and distilled a second time. Distillation must be completed no later than March 31st of the year after the harvest. Time is of the essence.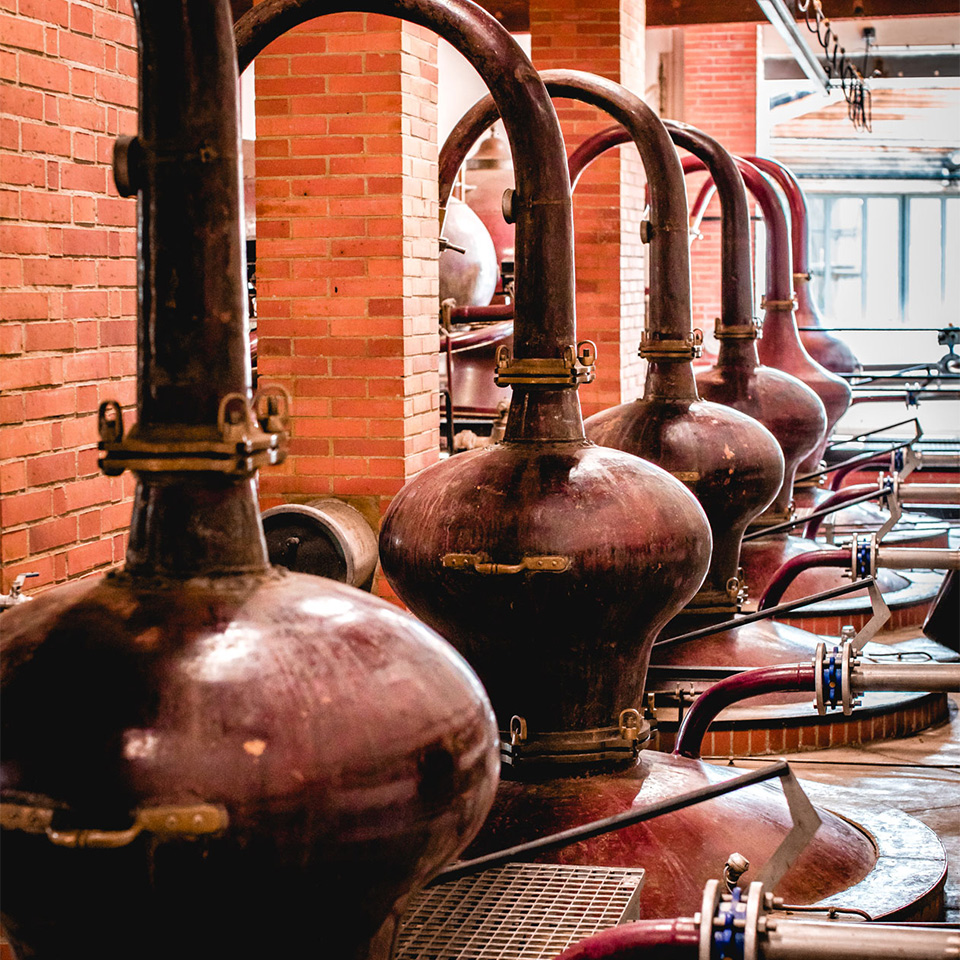 As soon as it comes out of the still, the new wine spirit is put into oak barrels to age for several years, where it develops its color, aromas, and flavors. The aging process may last several decades.
The combination of the origin of the oak, type of grain, humidity in the cellar, and age of the barrels provides an immense playground where cellar masters can age the wine spirit as they wish to produce the desired result.
Long aging results in soft, rich, concentrated wine spirits with good aromatic complexity.
In the long term, the wine spirit develops the characteristic rancio flavours, characterised by notes of autumnal forest floor, mushrooms, and walnut oil. Once again, time is crucial.
Once aging is completed, it is time for blending. This age-old tradition is not covered by any precise requirements in the Cognac AOC specifications. This is the crucial moment when the cellar master, assisted by their team, selects and purchases the wine spirits from winegrowers, and monitors them throughout their aging process to create blends which serve as veritable knowhow for our House.
Through its history, Domaine du Coquerel remains the only distillery to be authorized to age cognac in Normandy, which makes Martignac unique in its making and close to the gastronomic culture from our region.